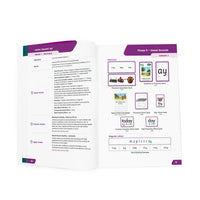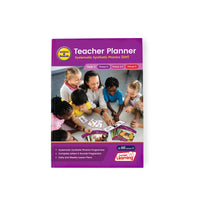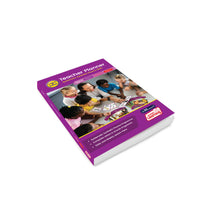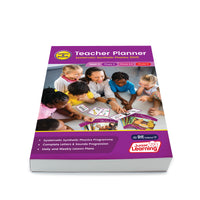 Teacher Planner Year 1
Regular Price

£79.99
Sale Price

£79.99

Regular Price
Unit Price

per
This Teacher Planner for Year 1 focuses on additional graphemes and alternative sounds. It also introduces the prefix -un and five suffixes in accordance with the National Curriculum. Teachers who have used Letters and Sounds will be familiar with the format of the daily and weekly lesson plans, in accordance with the progression. A calendar is provided in the front to plan out lessons for the three terms. Resources are presented on the right-hand page throughout the planner and these link directly to the lesson plan.
The Planner begins with Phase 5, covering a further 19 graphemes that mainly cover vowel sounds and alternative spellings of these such as the spilt digraph. By the end of Term 1 and across Terms 2 and 3, a significant amount of teaching is dedicated to sound families. Here, the focus is on a common phoneme and the various ways that phoneme can be spelt.
Decodable readers are introduced closely are new graphemes or sound families are introduced. These are presented in the weekly lesson plans.
There continues to be a strong emphasis on Common Exception Words within the programme, and these are ordered according to the progression across alternative spellings and sound families. Furthermore, homophones are introduced where two words can sound the same but have different spellings, and these examples are used to help reinforce the learning of different graphemes for the common phoneme.
Additional lessons are provided in two sections: phonics booster and revision. The phonics booster sessions are specifically designed for preparing children for the phonics screening check and giving them the 'boost' that they may need. Revision sessions at the end of the Planner to provide various revision sessions around sound families and alternative spellings of phonemes. Assessments are also included throughout.
This complete Teacher Planner for Year 1 provides over 590 pages of daily lessons and weekly introductions. Visual examples of supplementary resources are presented alongside daily lessons for quick reference.
Chapters include: 
Introduction
Phase 5 (vowel sounds)
Phase 6 (year 1 suffixes requirement)
Phase 5.5 (alternative sounds)
Revision and Assessment.
Lessons are provided across the school calendar year and allow preparation for the phonics screening check.
Additional resources are also included at the back of the Teacher Planner.
Sample Pages: